DYNAMIC MUSCLE ACTIVATION (DMA)
WHAT IS DMA?
DMA (Dynamic Muscle Activation) is a unique technology that targets the muscle layer with a directly applied controlled electrical current which stimulates the muscle fibers to increase their density and volume, creating better definition and tone with immediate and cumulative lasting effects.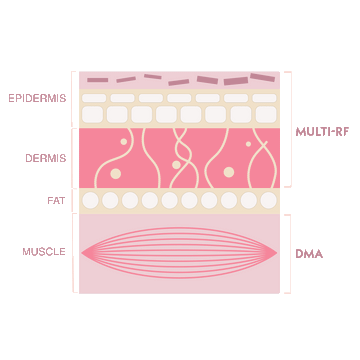 HOW DOES DMA WORK?
A directly applied gentle electrical current works by creating intervals of stimulation in the layers of the muscle which forces light contractions of the muscles to mimic the effects of exercise, encouraging blood flow and muscle repair.This process of working a muscle through gentle contractions builds muscle tone while resting which can have a lifting and sculpting effect, improved upon when used alongside the skin tightening technology of RF.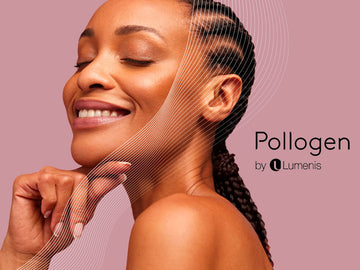 WHERE TRIPOLLAR DMA ORIGINATED
Developed by Pollogen for their professional medical devices such as the MAXIMUS for the body or the DIVINE PRO for the face, DMA is developed from the same principles as the EMS technology used in medical settings for other purposes, finely tuned for the best possible aesthetic results and clinically proven as safe and effective.
With the success of this technology in clinical settings all over the world, Pollogen worked to create the same results in their home use devices where DMA can now be found in the STOP Vx, POSE Vx, and STOP Vx GOLD 2.
DMA
DMA
DMA
DMA
Multi-RF
DMA
DMA
DMA
DMA
DMA
DMA
DMA
DMA
DMA
RF
DMA
DMA
DMA
DMA
DMA
DMA
DMA
DMA
DMA
DMA
DMA
DMA
DMA
DMA
DMA
DMA
DMA
DMA
DMA
DMA
DMA
DMA
DMA
DMA
DMA
DMA
DMA
DMA
DMA
DMA
DMA
DMA
DMA
DMA
DMA
TRIPOLLAR DMA DEVICES
☆ Work alongside RF to improve visible contour
☆ Give a lifted and toned appearance
☆ Increase muscle density for a firm look and feel
☆ Create a youthful appearance when used on the jawline and body
☆ Create lasting and cumulative results
SHOP OUR DMA TECHNOLOGY DEVICES